1.5hp, Air Heater and Air Deflator Bundle
1.5hp, Air Heater and Air Deflator Bundle
£315.00
exc. VAT
£378.00
inc. VAT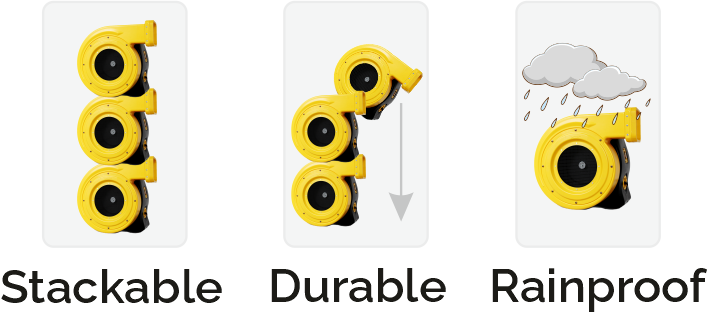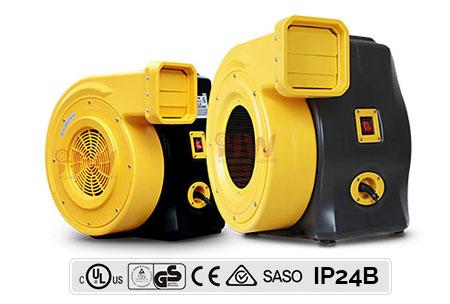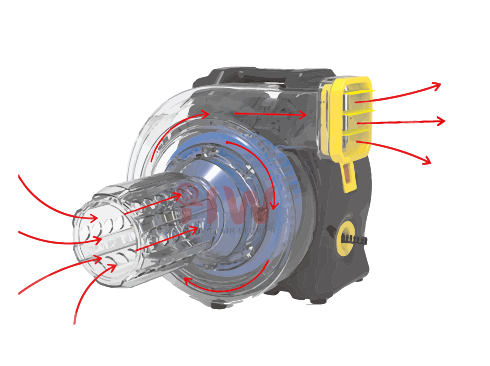 Air Deflator Compatible
Discover the electric air blower HUAWEI REH-1.5E, the market leader for commercial inflatable and bouncy castle air blowers and fans.
The Huawei REH-1.5E electric blower is an essential part of Huawei's product range and accessories, offering 1800W of power for an air flow rate of 600 m³/h. Manufactured from quality components, from design to assembly, this product is highly reliable, solid and meets the latest CE, GS, IP24 and TUV standards. Opt for a reliable, solid and high-performance blower that is now used and recognized by many professional companies and hirers across the UK and Europe.

What is the Huawei REH-1.5E electric blower for inflatables designed for? 
With its power of 1800W, the REH-1.5E electric blower is perfectly adapted to inflatable structures of classic dimensions such as 12ft x 12ft, 12ft x 15ft and 15ft x 15ft. Reliable and robust, it is the essential choice of hire companies, event or promotional agencies, looking for a product combining efficiency and excellent value for money.
The Huawei REH 1.5HP blower is versatille in design, its lightweight, stackable and rain proof. This commercial blower fan can be used with Huawei accessories such as the Huawei air deflator, both type A and Type B as well as the Huawei Air Heater.
Huawei Air Blowers: safety first!
Huawei' electric blowers have been designed with the constant concern to meet the expectations of its users in terms of safety and reliability. All our electric blowers are made of high quality, non-flammable materials. Each Huawei electric blower has been tested at every stage of its design to meet the standards in force in the inflatable industry. The Huawei 1.5 HP Electric Blower has been officially certified to TUV, CE, GS, IP24 and is compatible with EN14960 approved inflatables
Discover the inflatable industry's only air heater.

The Huawei Air Heater will push warm air through your inflatable and help dry out any water inside, it will speed up your drying times for wet inflatables either from rain or cleaning.

What is the Huawei Air Heater? 
The Huawei Air Heater is an optional attachment purchased seperately or in a bundle pack for Huawei Air Blowers: REH-1.5E, REH-2E and REH-1E. The Air Heater plugs in separately and pushes warm air into the inflatable, allowing a flow of warmer air to dry out moisture and prevent inflatables or bouncy castles from mould.
Huawei Air Heater: how do we use it?

The Huawei Air Heater is designed to take out the frustrating part of inflatable cleaning by reducing drying times to give you more time to plan your business.
To get the best out of the Huawei Air Heater, please follow the below steps:
1. Turn off your inflatable or bouncy castle and connect the air heater to the bouncy castle fan via the "twist in, twist out" mechanism - simple and takes just a few seconds.
2. Turn on your air heater, whislt leaving the bouncy castle fan off, to allow it to heat for 1-2 minutes.
3. Open any deflation zips or outlets on the inflatable.
4. Turn on the bouncy castle blower (We recommend the 1HP for use with Air Heater)
5. Allow the air to flow through and dry out the inflatable.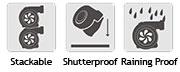 DATA SHEET


Voltage
220
Frequency (Hz)
50
Power (Watts)
1800
Pressure (Pa)
1450
Flow (

m³/h

)
600
Speed (m/s)
30
CFM (

m³/h)

1020
Weight (kg)
16.8
Standards
UL GS - TUV - CE - SASO - IP24B
Optional Extras
Deflators A, B - Air Heater
| SPECIFICATION | |
| --- | --- |
| Size L x D x H (mm) | 475 x 373 x 449 |
| Packing Size (mm) | 490 x 385 x 495 |
| Size of Outlet (mm) | 145 x 137 |
| Sound Level (dB) | 85 |
| Cable Length (m) | 5 |
| Plug | UK |
| Warranty | 12 Months |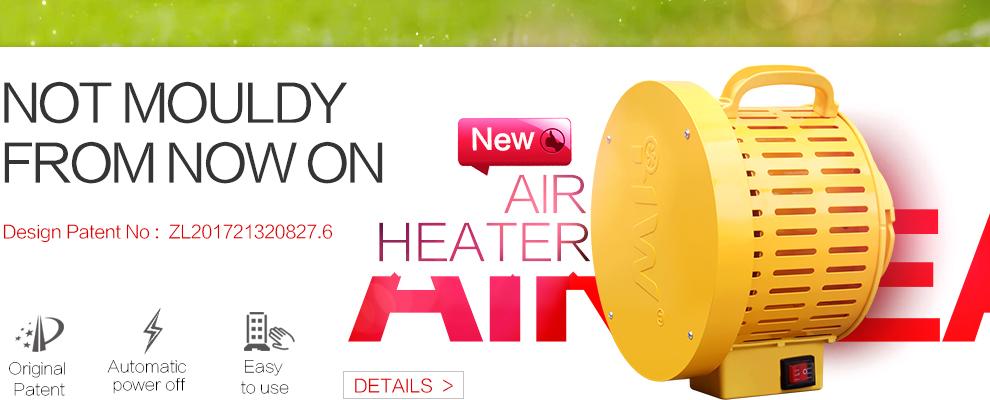 | SPECIFICATION | |
| --- | --- |
| Size L x D x H (mm) | 335 x 315 x 280 |
| Packing Size (mm) | 345 x 325 x 290 |
| Power (Watts) | 2500 |
| Certifications | CE - TUV |
| Weight (kg) | 5 |
| Warranty | 12 Months |